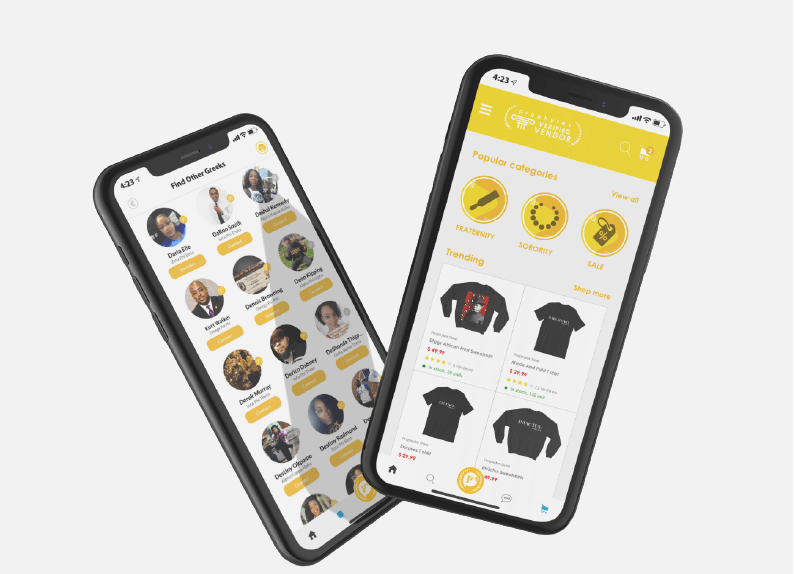 Finally! A Digital Marketplace Exists for Greeks!
Imagine getting a text from your line brother or sister about a few upcoming events. 
How exciting! 
You're always ready to spend time catching up with them while also advocating about issues that matter. However, the first thing that pops into your mind is, "What am I going to wear? 
You eagerly run to your closet to find the same Greek apparel you've worn for years. Your next stop is searching the internet for hours on end to find the perfect gear only to find nothing! 
No worries!
Introducing Greek Life Vendors Marketplace 
Greek Life Vendors Marketplace is for Prophyte App members who are looking for verified trendy Greek life apparel. We know just how tough it is to find this apparel. 
Not only is this marketplace a game-changer for members who are always looking for the latest in Greek apparel, but it's also a win for Greek life members who actually sell products.
Think of this as another way of building our community to thrive! 
Find the Perfect Apparel
The Greek Life Vendor Marketplace includes: 
Fraternity and Sorority Apparel

Jewelry

Accessories and MORE! 
Remember, it's so important that we invest in the things that we support. Additionally, we want you to look great for your next Greek event, college reunion, or simply everyday! 
We've also made it super easy for you to support with free standard shipping and handling, top notch support, and secure payments. 
Your authentic apparel deserves to be seen! 
If you're a Greek who is also a business owner that sells Greek apparel, you'll love being a vendor on the Greek Life Vendor Marketplace. 
This marketplace gives you a chance to reach more Greeks who would have been searching endlessly  for more verified Greek apparel.
To apply, click the link below:
If you've purchased Greek apparel from the marketplace, we'd love to hear from you. 
Comment below about what you like most about your new apparel.